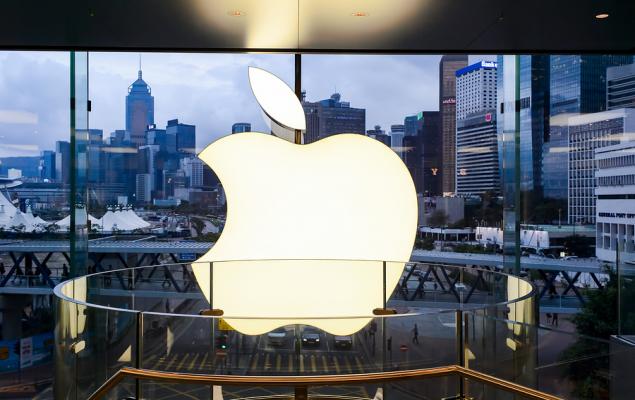 Apple Inc. (AAPL – Free Report) has slashed prices of most of its flagship devices, including iPhones, iPads, Macs and AirPods by about 6% on its official Chinese online store.
The price cut is in response to a fall in value-added tax (VAT) in China that took effect on Apr 1. VAT for manufacturers like Apple was brought down from 16% to 13%, per Caixin.
Apple also announced refund eligibility for the price difference for anyone who has purchased one of the products over the two weeks preceding the sale.
For instance, the price for entry-level iPhone XR, which originally cost 6499RMB, was slashed 4.6% to 6199RMB. Further, there was a 500RMB price cut each for iPhone XS and iPhone XS Max.
Will Lower VAT Boost Apple's Sales in China?
Greater China, which includes Hong Kong and Taiwan, contributed to 15.6% of the Apple's sales in the first quarter of fiscal 2019. Revenues, however, fell 26.7% from the year-ago quarter to $13.17 billion. The decline was across the board, including iPhone, Mac and iPad
Per a Reuters article on Feb 11, 2019, which cited an IDC report, Apple's iPhone sales in China fell 20% year over year in the fourth quarter of calendar 2018.
China currently has 2.5 million registered iOS developers. The assembling work of iPhones is done in China at very low labor cost, which is hugely beneficial for Apple. However, the slowdown in the nation's economy is expected to further hurt sales of iPhone, Mac and 
iPad.
Moreover, the steep pricing of new iPhones is resulting in Apple losing considerable share to Xiaomi, which offers devices of similar features at a significantly lower price. Also, Huawei is gaining traction in the Chinese market, following Samsung as the world's largest smartphone maker.
The price slash due to lower VAT is expected to benefit Apple as this will make its products more affordable in China.
Zacks Rank & Key Picks
Apple currently carries a Zacks Rank #3 (Hold).
A few better-ranked stocks in the broader Computer and Technology sector are Fortinet, Inc. (FTNT – Free Report) , Verint Systems Inc. (VRNT – Free Report) and Cadence Design Systems, Inc. (CDNS – Free Report) , each sporting a Zacks Rank #1 (Strong Buy). You can see the complete list of today's Zacks #1 Rank stocks here.
Long-term earnings growth for Fortinet, Verint and Cadence is projected to be 16.75%, 11% and 12%, respectively.
Today's Best Stocks from Zacks
Would you like to see the updated picks from our best market-beating strategies? From 2017 through 2018, while the S&P 500 gained +15.8%, five of our screens returned +38.0%, +61.3%, +61.6%, +68.1%, and +98.3%.
This outperformance has not just been a recent phenomenon. From 2000 – 2018, while the S&P averaged +4.8% per year, our top strategies averaged up to +56.2% per year.