This year's £1m QE Engineering Prize has been won by four individuals who played key roles in developing GPS.
The Americans Brad Parkinson, James Spilker Jr, Hugo Fruehauf, and Richard Schwartz were all present at the London ceremony held to announce the honour.
HRH The Princess Royal made the award.
The Global Positioning System began as a military project but has since had a revolutionary impact on wider society, and now underpins hundreds of billions of dollars of economic activity.
Dr Parkinson said it was an extraordinary honour to receive the Queen Elizabeth Prize for Engineering, but he was then quick to pay tribute to the many people who were involved in the innovation.
"It is an awesome honour. There is no prize for engineering greater than this," he told BBC News.
"The nice part is that it's a recognition for technology that is good for humanity around the world. And it's humbling because, candidly, the four of us represent another score of engineers, and more, who made critical contributions. Nobody does everything."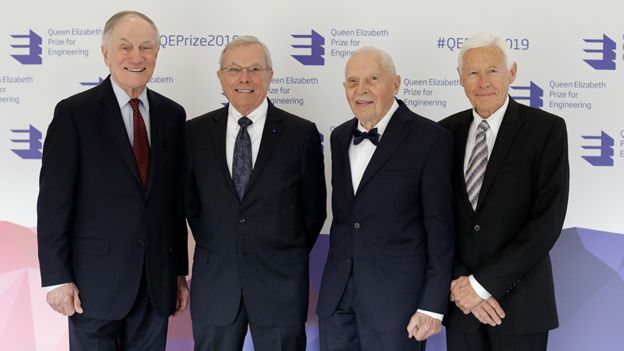 How important is GPS?
GPS is made possible by a network of 24-plus spacecraft in orbit that transmit precise timing and positional information to receivers around the globe.
And while most people will be familiar with the technology from their smartphone or car sat-nav device – the signals are used in myriad and ever-expanding ways, helping to synchronise cellular and data networks; to time-stamp financial transactions; and to co-ordinate supply chains, whether they involve trucks, planes, ships or trains.
Indeed, it is hard to think of an activity in modern society that doesn't lean in some way on GPS and its sister services now coming online, such as Europe's Galileo network.
And this reliance will only go deeper as we enter two new eras – that of the so-called "Internet of Things", where all manner of objects are connected through the internet; and that of Big Data, where huge volumes of information points are analysed by powerful computers to reveal entirely new behavioural patterns and trends.